The OKECHAMP foundation  was established in 2011 to assist the children of OKECHAMP S.A. employees. 
The mission statement of the Foundation focuses on providing aid and care to children, teenagers and adults severely tried by fate, particularly the disabled and those with serious health issues whose parents' financial situation is poor. 
The aim of the foundation is carried out by:
financing sanitary products, medicine, doctor's appointments, special care, examination and medical assistance

assistance in financing rehabilitation camps, purchasing the required materials and equipment which may improve the lives of the disabled as well as any other assistance required for decent living conditions for children for which the Foundation was established

financing study aids and stipends
NON PROFIT
The OKECHAMP foundation is a nonprofit entity – we are not a business and we are not profit-oriented, after few years of its operation, it becomes a public utility organization.
COMMITMENT
The Foundation operates thanks to funding by Employees, Customers and Partners of OKECHAMP. Its operations also includes voluntary assistance.
We hope that the OKECHAMP Foundation with the help of all the generous people will be able to bring a small glimpse of hope and joy into the life of children who have not been treated fairly by life.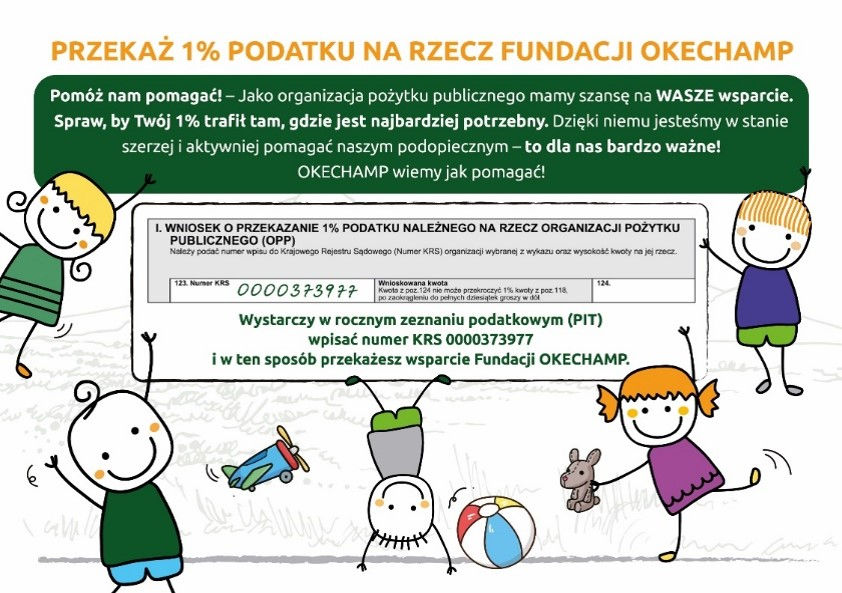 The Foundation is based on voluntary monthly donations made by OKECHAMP employees, as well as donations made by OKECHAMP Group.
Ty również możesz pomóc poprzez:
to our bank account: Fundacja OKECHAMP Bank BGŻ
74 2030 0045 1110 0000 0201 6470
Donating
valuable items
for auctions
Agnieszka Buszkowska
Prezes Fundacji
phone: +48 61 846 99 29
mobile: +48 513 155 608
e-mail: fundacja@okechamp.eu